If you've travelled business class in Europe, you'll know that for the most part the on-board experience isn't so different from travelling economy. The vast majority of European carriers that offer short-haul business class simply block off the centre seat of a standard three-abreast airline seat. If you're lucky, there might be a drinks table placed there.
But not all routes are equal. There are a few routes where you're able to take advantage of a large long-haul seat, usually in a widebody aircraft, even on short inter-European routes.
There are two ways this comes about. The first is where a European airline operates long-haul equipment on what is a short-haul route. This is often done for the extra cargo carrying capacity of the widebody aircraft. Other times it's simply to cope with the heavy passenger loads on a particular route.
The other way is when non-European airlines take advantage of what are known as "fifth freedom" rights. In short, this allows an airline to carry passengers between two destinations which form part of a longer route, even if neither destination is in the carrier's country of origin. For example, on Singapore Airlines' Singapore-Milan-Barcelona route they are allowed to pick up passengers in Milan and fly them to Barcelona – and vice-versa.
I've picked out some of these routes below. If you know of any that I've missed, please let me know in the comments.
I've shown current business class fares but obviously you can enjoy these widebody aircraft in economy too – and in some cases, premium economy.
Please note that airlines frequently change routes and aircraft types, especially between summer and winter seasons. Always double check before making a booking. In particular, aircraft types can change at short notice.
London Heathrow – Madrid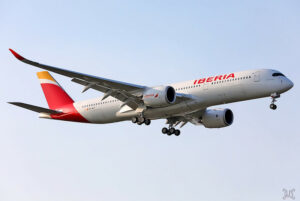 Oneworld alliance partners and IAG stablemates Iberia and British Airways each operate a daily widebody aircraft between their respective hubs. BA mixes its Boeing 777 and Airbus A350s on the route but has also sometimes used a Boeing 787 so it can be a bit of potluck as to what you actually end up flying on. The A350 guarantees you BA's latest long-haul business product, Club Suites. The Boeings are a mix of Club Suites and the older Club World product, but even the latter is much nicer for 2-hour flight than an economy seat. Iberia uses a mix of its Airbus A330 and A350 aircraft with lie-flat beds in business class. One-way business class from GBP305 (EUR346 / USD380).
London Heathrow – Dublin
Aer Lingus operates an Airbus A330 on this busy route several times a week, usually on the late afternoon/evening service from Dublin. British Airways sometimes uses a widebody aircraft on the route, but this is on a more ad hoc basis. Note that Aer Lingus does not sell business class seats on this route and the business class cabin is not normally selectable when the A330 is used.
London Heathrow – Helsinki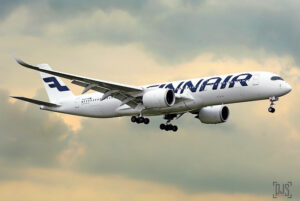 Finnair regularly uses its Airbus A350 widebody aircraft between these two Oneworld hubs. It features the airline's new non-reclining business class seat (don't worry, it still folds flat). One-way business class from GBP365 (EUR414 / USD455).
Manchester – Geneva
This is a relatively new route for Ethiopian Airlines, Africa's largest airline. It operates four times a week – currently on Tuesday, Thursday, Saturday and Sunday. Equipment varies between Airbus A350s and Boeing 787s. Both are widebodies feature lie-flat seats in business class. One-way business class from GBP389 (EUR441 / USD485).
Oslo – Stockholm
Another Ethiopian Airlines route using a mix of Airbus A350 and Boeing 777 and 787 aircraft. It operates daily. One-way business class from GBP558 (EUR633 / USD695).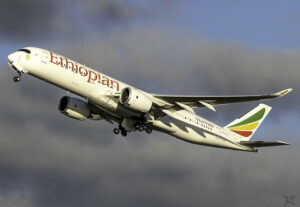 Zurich – Milan
Ethiopian Airlines third inter-European offering uses Airbus A350 aircraft on Monday, Wednesday, Friday and Sunday on this sub-60 minutes route. One-way business class from GBP1068 (EUR1212 / USD1331). *Ethiopian also operates between Rome and Marseille but does not currently have traffic rights to pick up passengers between those points.
Milan – Barcelona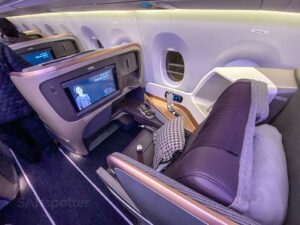 Singapore Airlines is often cited as a carrier with excellent on board service. You can have a small sample of it on this route between Italy and Spain. Singapore Airlines uses Airbus A350 aircraft on the route. Ironically, the business class seat fitted to these aircraft has been the subject of some criticism by long-haul travellers. However, for the 2-hour inter-European sector it's more than adequate. The flight operates five times a week – Monday, Wednesday, Thursday, Friday and Sunday. One-way business class from GBP303 (EUR344 / USD377).
Larnaca – Malta
Emirates is another airline known for the quality of its on board service. They operate a daily Boeing 777 between Cyprus and Malta. It is the only carrier listed here that has a proper first class cabin on one of these short haul routes, though the GBP1305 ticket price may be off-putting. One-way business class from GBP841 (EUR955 / USD1048).
Athens – Larnaca
This route between Greece and Cyprus is heavily serviced by local carriers Aegean, Cyprus Airways, Olympic and Sky Express – plus low cost airline Wizz Air. However, Gulf Air also operates its long-haul configured Airbus A321 aircraft on Mondays and Fridays. One-way business class from GBP293 (EUR332 / USD365).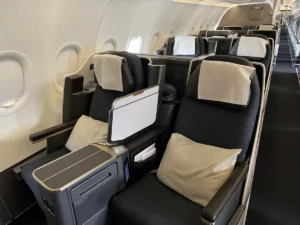 Other routes
There are a few other routes where airlines use long-haul aircraft on a more seasonal basis, sometimes for just a few weeks at a time. These include Aer Lingus from Dublin to Faro and Palma, Lufthansa from Frankfurt to Palma and Swiss from Zurich to Palma. British Airways has occasionally operated long-haul aircraft from London Heathrow to Frankfurt and Athens.