Shepperton would be an anonymous, albeit pleasant, suburb to the south-west of London were it not for one thing – Shepperton Studios.
Since the 1930s, the studios have produced hundreds of films and television programmes including such well-known works as Dr Strangelove, 2001: A Space Odyssey, Star Wars, Alien and Bridget Jones Diary. Netflix and Amazon Prime Video have signed major deals in the past two years to use new production facilities at the site.
Shepperton is also just 20 minutes from Heathrow Terminal 5 by car or taxi and there is a direct bus service to Terminal 4 and Hatton Cross tube station.
It's not so surprising then that this village of just 9,500 people boasts a fully-fledged 180-room Holiday Inn, located next to the River Thames.
The room I stayed in was standard Holiday Inn fare with a double bed, armchair, work desk and chair plus tea and coffee making facilities. There was a wardrobe with a room safe (always a welcome amenity), iron and hairdryer. The bathroom had a proper bath – another feature that's always a pleasure to find. Waiting for me in the room were a bottle of water and small chocolate bar.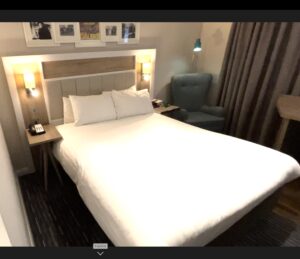 In the communal areas of the hotel, including the lobby and corridors, are numerous posters and artefacts relating to Shepperton Studios. Film and TV buffs will enjoy this attention to detail.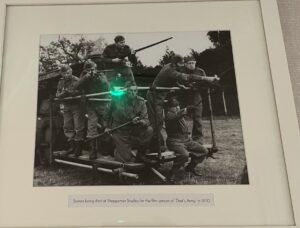 This theme continues in the Wings restaurant which offers a good selection of food for lunch and dinner and boasts that it sources most of its ingredients from within a 50-mile radius of the hotel.
There is a gym and swimming pool on-site, but these are operated by an independent business and use of the facilities is chargeable.
Prices for this hotel often come in at below the GBP100 mark per night which can make it an interesting alternative to one of the airport hotels at Heathrow.