As one of the world's "global cities" it has always struck me that New York City is poorly served by its three airports. La Guardia has a new and greatly improved terminal building, but it is still badly located and badly served by public transport to Manhattan. It is also limited to mostly domestic flights Newark Liberty airport isn't even in New York state and requires you to travel on a shuttle train to catch a proper train into the city centre.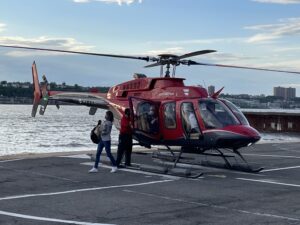 And then we have JFK, the city's flagship airport. Like Newark, connecting to the subway system requires you to get a separate AirTrain shuttle first then board a commuter train to Penn station. As for driving from the airport? As the crow flies, it's about 12 miles to Manhattan but about 17 miles on the road. One hour journeys are typical, but 90 minutes is far from unknown. Like many major cities, New York has added bus and cycle lanes which are great for enabling public transport and protecting vulnerable road users but increase travel times by car and taxi.
Blade Helicopters tries to get around this by offering direct helicopter transfer from JFK airport to Manhattan. How much does it cost? Is it convenient? And does it actually save much time?
Let's start with the cost. Blade's prices start at USD195 each way. Plus, on arrival at West 30th Street Heliport you'll need to pay for your onward journey. Blade will arrange a car to be waiting for you, but at a cost. Also, any baggage that you have beyond normal airline-size hand baggage will also cost extra and is transported by road.
For comparison, a taxi is a fixed fare of USD70 with a USD5 surcharge in peak hours. The subway and AirTrain combination is USD10.95.
But where Blade wins by a long chalk is in time. From take-off at JFK to landing at the West 30th Street heliport is under 10 minutes – much, much quicker than any of the land-based options.
There is a "however" with this, though. The heliport is on the far western side of Manhattan Island. If, like me, you are staying in Midtown East or Upper East Side you need to factor in a 30 minute car journey in Manhattan traffic to get to your hotel. Overall, it's still quicker by air but it does take the edge off the advantage.
Also, only one piece of hand luggage is permitted. If you have large suitcases or rucksacks, these are taken by car to your final destination. Not a major problem if you're staying at a hotel but potentially an issue if you're catching a train.
Blade offers a meet-and-greet service at baggage reclaim, again for an extra fee. I would say this is superfluous as there was excellent communication from Blade's control centre giving us clear information on where to meet the driver who would take us their terminal.
The Blade terminal is in the cargo area at JFK, about a five minute drive from the terminal area. There is complimentary tea and coffee, though not the full bar service available at the downtown terminal.
The helicopter is a seven-seat Bell 407 fitted with panoramic windows. Every passenger is provided with a headset. After take-off the flight heads out across Brooklyn then passing the Southern tip of Manhattan affording excellent views of the skyline before touching down at the West 30th Street heliport.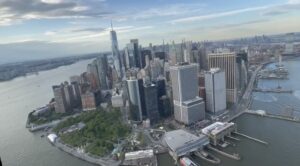 So, is it worth the cost? If time really is money for you then perhaps but if there are three or four of you travelling and you can share a cab or Uber instead then the per-person cost differential is so much greater it's hard to justify in my opinion. On the flip side, as a treat as part of a special trip then it's quite the experience.