Bournemouth is famed for its beaches, its cliffs and its pier but it has played key roles in British aviation through the decades.
A flying boat departure point at Poole, Britain's main air traffic control college and manufacture of two successful British airliners – the Vickers Viscount and BAC One-Eleven – all took place there. It's fitting then that there is an aviation museum next to Bournemouth International Airport.
The museum is easily accessible and well signposted. In any case, just follow the signs for the airport terminal and the museum is just down the road from there. There is plentiful parking. The admission charge is a very modest GBP6.00 for adults and GBP3.00 for children 16 and under.
Bournemouth Aviation Museum was initially sited on the airport itself, hosted by Jet Heritage. When that company went into liquidation the museum continued but in 2007 the airport gave notice that they required the space for additional car parking. Adventure Wonderland, an Alice in Wonderland theme park opposite the airport, came to the rescue. A BAC One-Eleven and a Handley-Page Herald sadly did not make the move and were scrapped but the museum has a varied range of aircraft both civil and military on its compact site.
Unlike most aviation museums, Bournemouth has an 'open cockpit' policy. If the cockpit is open, then you're welcome to get in and to push/pull control columns, toggle switches, make flying noises and generally address your inner child.
It's fair to say some of the exhibits are in better condition than others but this small museum offers the chance to see aircraft close and personal. It feels much less 'sterile' than many museums and all the volunteer staff are very friendly.
The entrance cabin incorporates a small shop selling new and old aviation books, model kits and toys. There is also a small range of refreshments. Raised platforms at the edge of the museum overlook Bournemouth International Airport.
Some of the key exhibits include the following:
BAC ONE-ELEVEN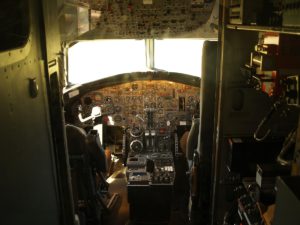 QinetiQ's BAC One-Eleven ZE432 operated for the Empire Test Pilots' School (ETPS) at Boscombe Down for 27 years, having originally been delivered to Fiji-based Air Pacific in 1973. Withdrawn from service in 2011, the forward fuselage section survives here facing the airfield where all UK-manufactured BAC One-Eleven's were built.
It was only on 9 May 2019 that Northrop Grumman finally retired the last airworthy BAC One-Eleven which they had used as a flying testbed, most recently for equipment to be fitted to the F-35. The airliner was a sales success when first introduced, most notably gaining orders from American carriers before the similar Douglas DC-9 was available.
WESTLAND WESSEX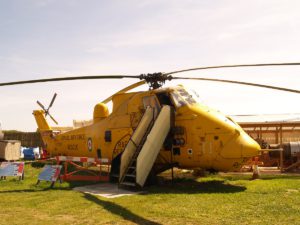 Despite its yellow search-and-rescue colour scheme, the museum's Wessex was a pre-production version of the helicopter. After development flying with Westland at Yeovil, it was transferred to the Aeroplane and Armament Experimental Establishment (A&AEE;) at Boscombe Down. It ended its days as an instructional airframe before passing through a private collector to the museum.
Powered by two de Havilland Gnomes, the Westland Wessex was the first helicopter designed around gas turbine powerplants. It served with the Royal Navy and Royal Air Force as an anti-submarine platform, troop carrier and search-and-rescue craft.
SEPECAT JAGUAR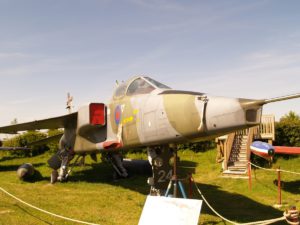 This GR1 variant of the SEPECAT Jaguar, XX763, spent the key part of its flying career with 226 Operational Conversion Unit (OCU) at Lossiemouth, Scotland. Prior to that it had been displayed by the manufacturer at the 1975 Paris Air Show.
The museum has repainted the Jaguar to a high standard and it awaits its final squadron markings to be re-applied. A rather better effort than my attempts with an Airfix kit from the same era…
WESTLAND WASP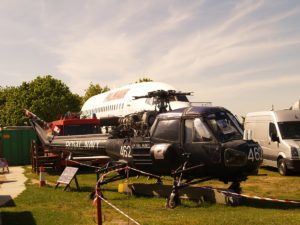 I always thought the Wasp looked like a shopping trolley with rotor blades, but it proved itself to be an effective ship-borne helicopter. In April 1982, a Westland Wasp from HMS Plymouth, along with a Wessex from HMS Antrim, attacked and disabled the Argentine submarine ARA Santa Fe outside Grytviken, South Georgia.
The shopping trolley analogy is not entirely unfair, as the Wasp is fitted with a unique castoring undercarriage – four free-castoring wheels at each corner. This meant it could be manoeuvred more easily on a pitching deck. It could be equipped with torpedoes, anti-ship missiles – or be used for casualty evacuation.
The museum's example served aboard HM Ships Scylla, Jupiter and Rothesay before spending time as a training airframe.
CHICHESTER-MILES LEOPARD
Probably the most unique exhibit at this museum, being one of only two ever built, the Chichester-Miles Leopard was a privately-financed light personal business jet proposal. Seating four and equipped with a pressurised cabin it had a range of over 1,500 miles (equivalent to London-Athens).
Financial setbacks at the original engine manufacturer and the death of chief designer Ian Chichester-Miles saw the project halt after only two aircraft were built. The other example is preserved at the Midland Air Museum.
A full list of the museum's exhibits, including a Boeing 737-200 incorporating a detailed history of Bournemouth-based Palmair, is available at the official website – click here.
For more information on the BAC One-Eleven, try these detailed books available from Amazon