Airline launches and new routes have been few and far between in the post-pandemic world. UK regional airline Flybe went into administration in March 2020, just as Covid began to strike in Europe. As the world started to reopen, Cyrus Capital, an American hedge fund, applied to restart the Flybe brand. A licence was granted by the UK Civil Aviation Authority (CAA) with Birmingham announced as the new base, with a subsidiary hub at Belfast City airport.
The inaugural flight was announced for 13 April 2002 from Birmingham to Belfast City. As soon as the news appeared online, I looked and was pleasantly surprised to find reasonable prices on the opening flight and a return sector the same day. It would have been rude not to book.
An early morning drive to Birmingham airport and I parked in one of the multi-storey car parks which I found to be surprisingly full – despite Birmingham airport's fairly high charges. With hand-baggage only, I skipped the check-in area, which was bedecked with balloons.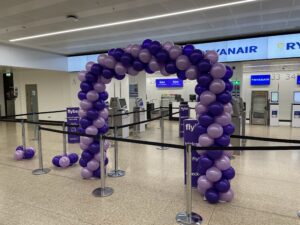 Thank goodness I'd got to the airport with plenty of time to spare. The security queue was horrendous, taking over an hour to be processed. Staff shortages at UK airports have been well covered in the news. It was no exaggeration this morning.
Time for a lounge breakfast. Flybe don't provide lounge access for any customers, but thanks to Barclays Premier Rewards I had access via DragonPass to both lounges. The No1 Lounge was no accepting walk-up customers on the day, so I ended up in the Aspire Lounge. This lounge has good views of the airside activity and was serving a buffet-style hot and cold breakfast.
I was able to rustle up something vaguely resembling a full English breakfast, along with a couple of sweet treats alongside.
Heading down to the gate, I found Flybe representatives handing out "goody bags" containing branded promotional items. A nice touch for the inaugural flight. On board, there were speeches given over the PA from new Flybe CEO, David Pflieger, and the aircraft captain – and Flybe's chief pilot.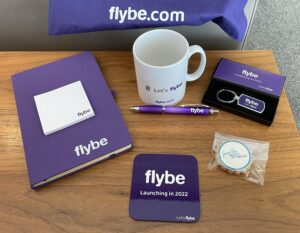 Flybe has refurbished five de Havilland Canada Dash 8 Q400s with new cabins in an all-economy 2-2 configuration with leather seating. The seat is basic but comfortable for the short sectors the airline operates. Inflight service consists of a complementary snack and soft drink – in this case some biscuits and a cup of water.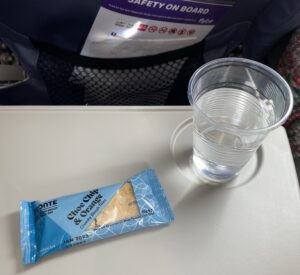 Flight time to Belfast City airport was around 40 minutes and on landing we were treated to a water cannon salute from the airport fire brigade – my first ever.
I had a couple of hours to spare before the return flight to Birmingham, so decided to check out the Aspire lounge. This is the only lounge at Belfast City. It's quite small but has enough amenities for a pleasant short wait before a flight.
The return to Birmingham was also an inaugural flight, so there was a further round of speeches and goody bags before the uneventful journey back to the Midlands.
I had the opportunity during both flights to speak with members of Flybe's management team. They seem to have a realistic plan for expansion and new routes, with further Q400 aircraft being delivered in stages. I believe a robust domestic transport network is vital for the UK economy, so wish them the best of luck.