Heathrow Queen's Building – part 2
Aviation is a fast-paced business. Airlines come and go, liveries change, aircraft types enter service – or are retired. Following on from my previous article on the Heathrow Queen's Building, here are a few more aircraft, airlines and liveries from yesteryear.
BOEING 747 CLASSICS
It's the 50th anniversary year of the Boeing 747 and back in the 1980s there was an abundance of series -100 and -200s at Heathrow. Original operators like Pan Am and TWA had regular, daily Transatlantic services alongside British Airways. Other regular Jumbo Jet users at Heathrow at the time included El Al, Air India, South African Airways, Aerolineas Argentinas, Iran Air, Qantas and Japan Airlines.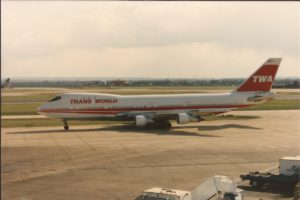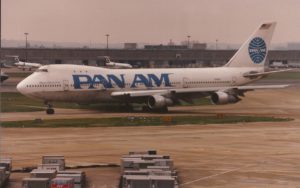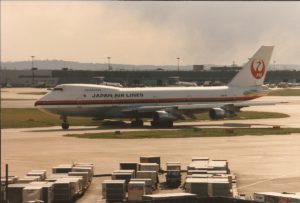 LUFTHANSA HUB
Lufthansa has operated from Heathrow since the airline's inception in 1953. In the 1980s, with several daily flights to Hamburg, Dusseldorf, Frankfurt, Munich, Cologne/Bonn and Stuttgart the stands at Terminal 2 could resemble those at one of the German airports.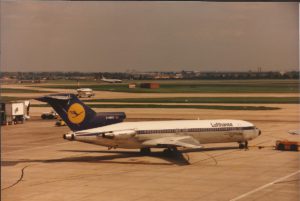 MIDLAND UPSTART
British Midland Airways had flown to regional destinations from Heathrow for many years when the company decided in 1982 to compete with British Airways on the 'Shuttle' routes to Belfast, Glasgow, Edinburgh. It utilised its fleet of DC-9s which included the short Series -15. Services to Liverpool continued with Vickers Viscounts until the late 1980s.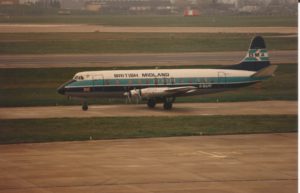 A SMALL HOP
Until the recent re-introduction of Flybe's Bombardier Q400s, Heathrow for the most part of the early 21st Century was the exclusive reserve of jet airliners. And no airline would use a valuable slot at the overcrowded international hub for a flight with an aircraft with less than 80 seats. But in 1987, Manx Airlines flew to Douglas, Isle of Man with a 34-seat Saab 340 appropriately registered G-HOPP. The airline's 36-seat Shorts 360s, including G-ISLE and G-LEGS, were also a regular sight.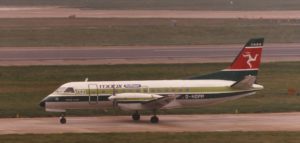 If all this has whetted your appetite for Heathrow's history, check out this fantastic book and others all available on Amazon: