Following a two-year Covid-induced closure, London Heathrow's Terminal 4 reopened on 14 June 2022. Qatar Airways operated the first flight from the reopened terminal and other operators joining them are Air Algerie, Air Astana, Air Malta, Air Mauritius, Air Serbia, Azerbaijan Airlines, Bulgarian Air, El Al, Etihad Airways, Gulf Air, ITA Airways, Kenya Airways, Korean Air, Kuwait Airways, Malaysian Airlines, Oman Air, Royal Air Maroc, Royal Brunei, Saudi Arabia Airlines, TAROM, Tunis Air, Uzbekistan Airways and Vietnam Airlines.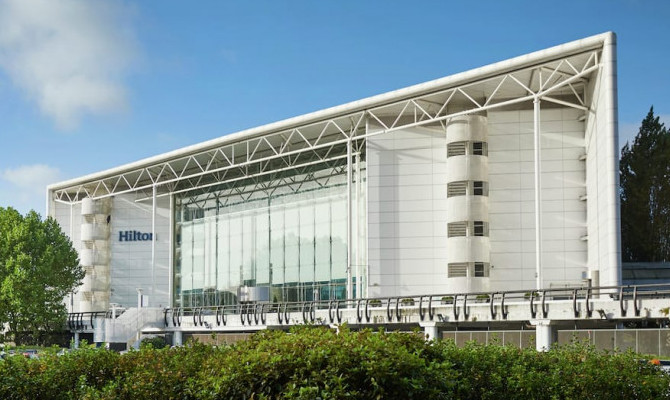 Originally opened in April 1986, Terminal 4 was sited apart from the three other terminals then operating in Heathrow's central area. This meant it was also separated from the 'strip' of hotels along Bath Road to the north of the airport. To counter this, a Hilton hotel was constructed directly opposite Terminal 4, connected by a covered walkway.
The hotel was open during the Covid pandemic except during the initial phase, even though the adjacent terminal was one of the first to close as passenger numbers plummeted. As T4 reopens I thought it would be a good time to review recent stay at the Hilton London Heathrow Airport. (That's the confusing official name, not mentioning Terminal 4, despite there being another Hilton at Terminal 5 and two Hilton Garden Inns…)
There is a very large atrium with two 'walls' of rooms on each side of it. Because of the orientation and shape of the building – a rhomboid, few rooms have a view of the airport itself but those at the northern end of the building have a limited view of some movements, restricted by nearby buildings.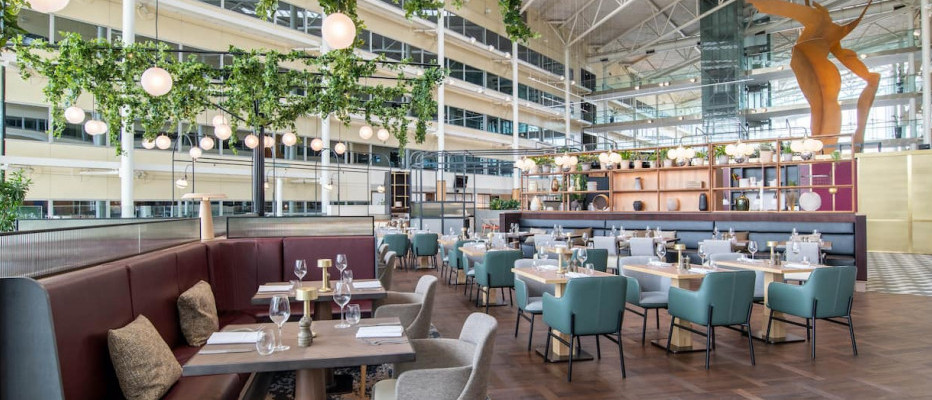 My original booking was for a King Deluxe room. This was upgraded on arrival to a King Executive room. I was told this was because of my status with Hilton Honors, Hilton's loyalty programme. However, at my current level – Silver – that isn't an advertised benefit. Nonetheless, the upgrade was very welcome, as this meant I got one of the few rooms with a reasonable airport view, as well as more space and access to the executive lounge.
The room itself contained a king-size double bed, a working desk and chair, a reading chair, the standard wall-mounted television and a coffee maker. A total of six pillows were provided, a big plus from me. The bathroom was a shower-only affair. Overall, a clean and spacious room.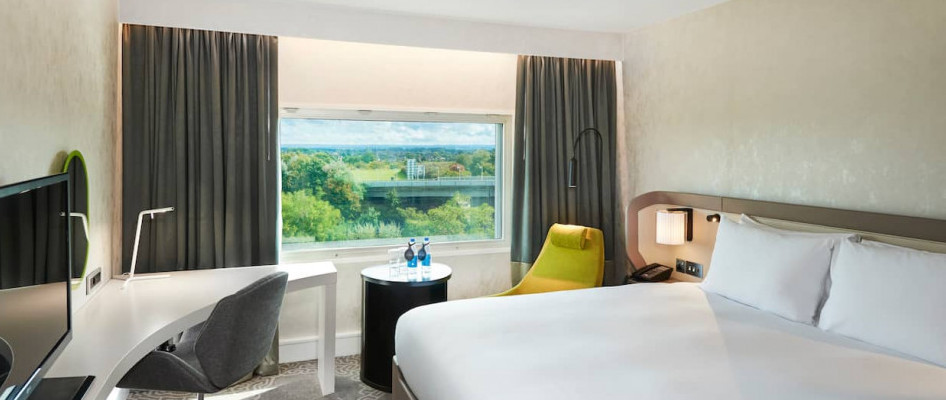 Thanks to the upgrade, I was able to try out the executive lounge on the ground floor, next to the main reception. This was lightly stocked with snacks, a coffee machine and a mix of soft and alcoholic drinks. There was also a selection of board games. A workstation and printer are also available. The lounge was almost empty on my visits, reflecting the generally low occupancy of the hotel at the time.
Dining venues at the hotel were refurbished in 2021. There is a bar in the main atrium, but this was closed at the time of my visit. There is also a café serving the usual range of sandwiches and hot beverages.
The main restaurant is the Oxbo Kitchen, which serves as both the breakfast venue and a full-service restaurant. I opted for the butter chicken curry followed by a sticky pudding. Overall cost, including a drink, was around GBP30, not bad for an airport hotel.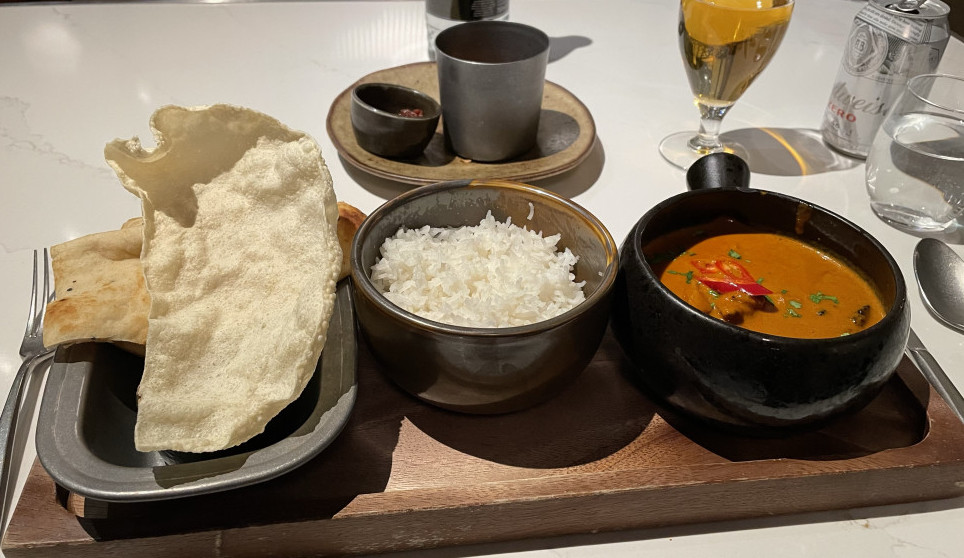 Car parking is GBP for 24 hours, with no discount for hotel guests. However, there are in-and-out privileges.
If you're flying from Terminal 4, this hotel provides a reasonably priced full-Hilton experience and compares favourably on price with the nearby Crowne Plaza and even Premier Inn.