As a global city, there is no shortage of hotels in New York. As one of the world's leading financial, business and diplomatic centres there are an above average number of luxury hotels too. InterContinental Hotels, the luxury division of IHG, has two hotels in the city – the InterContinental Times Square and InterContinental Barclay. I have stayed a few times at the latter and have never been disappointed.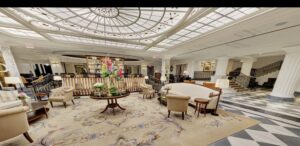 Let's be clear, the InterContinental Barclay is a five-star hotel in an expensive city with standard room rates starting at around US$700. If you're looking for budget accommodation it won't be at the top of your list. That said, as part of a flight-and-hotel package you can find much better rates and, of course, you can pay or part-pay with IHG One Rewards or an airline-based loyalty scheme.
The hotel is in Midtown East, just a couple of blocks from Grand Central station and St Patrick's Cathedral. Lexington Avenue/53rd Street subway station on the 6, E and M lines is also nearby.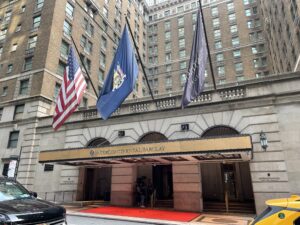 Looking rather unassuming from the outside, the hotel entrance is on East 48th Street on a one-way street. On entering the grand lobby, the check in is to the right with the Concierge and VIP check-in for Ambassador members of InterContinental's own loyalty program just beyond. In the same area is The Parlour offering all-day meals and a long cocktail bar.
There is a wide variety of room types and sizes available. I stayed in a King Premium room on the 6th floor. The room featured a large king-size bed, a table with two easy chairs, a room safe, and other standard amenities. The bathroom was well appointed and offered top-end soaps and shampoos. The only disappointment was the lack of a bath with only a shower cubicle on offer.
Regular visitors to New York will know that it's rare for a hotel room to offer a view of much apart from other buildings and this was no exception. However, it was well insulated from the traffic noise and hustle and bustle of the Manhattan streets.
The Parlour's offers a wide selection of North American and international beverages. The bar staff will mix any cocktail you desire and there is always a seasonal selection if you fancy something a little different. Expect to pay about US$25 per cocktail.
I have always found the staff at the InterContinental Barclay to be friendly and helpful, particularly the door staff. When the nearby Waldorf Astoria eventually reopens it will no doubt give the Barclay some stiff competition, but until then if you need a five-star hotel in Manhattan then the InterContinental Barclay is a great option.
For tips on how to stay at luxury properties for a lot less than you'd think grab a copy of my book First Class For Free.