Welcome to this New England Air Museum review. If you've visited a fair few aviation museums, as I have, then you'll know it's fair to say they vary in quality. I'm glad to say that New England Air Museum (NEAM) is one of the good ones. It is an excellent museum.
Situated adjacent to Bradley International Airport, Windsor Locks, Connecticut the museum is easily accessible from the airport or the I-91 freeway. There is plentiful parking. The admission charge is a modest US$15 with the usual discounts for children, seniors and veterans.
Refurbished in 2017, in a US$2 million project, the museum is well laid out with plentiful exhibits. Exhibits are comprehensively labelled and there are many informative displays throughout. There is a gift shop and vending machines for snacks and drinks. Staff are knowledgeable, and very friendly and helpful. Most importantly, the interior exhibits are maintained to a very high standard. Some of the exterior exhibits have seen better days, but the patina of their working lives can be interesting in its own right.
These are some of the key exhibits. In my view, the first two alone would justify the entrance fee:
BOEING B-29 SUPERFORTRESS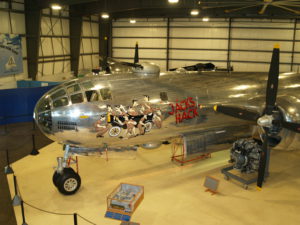 'Jack's Hack', the museum's Superfortress is one of nearly 4,000 built during the Second World War, this one having been put together at Boeing's main plant in Renton, Washington. It was built just too late to see service during the war but was flown by training unit and saw overseas deployments in the United Kingdom and Libya. After finding itself on a shooting range in Maryland, the B-29 was rescued and transported to the museum. Following a few years of external storage – and surviving a hurricane which ruined many of the museum's then exhibits – 'Jack's Hack' began to be restored in 1998. NEAM says it is "only 98% complete" but most visitors will see what the museum claims to be one of the best restored B-29s in the world. It's difficult to argue with that claim.
SIKORSKY VS-44A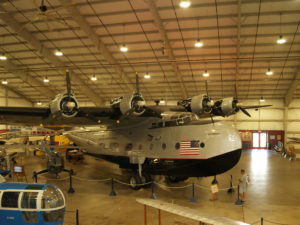 Only three Sikorsky VS-44's were built and 'Excambian' is the sole survivor. Built by Sikorsky in 1942, it saw service the US Navy before entering civilian operation. There are few surviving four-engine flying boats in the world and 'Excambian' is the only American built one. The exhibit is on loan from the US National Naval Aviation Museum, Pensacola, Florida.
GOODYEAR ZNPK Blimp Control Car
Another recent and excellently restored part of the museum's collection is this control car from a Second World War airship. One of only 134 K-class airships built, NEAM has spent 14,000 hours restoring the car since 1993. The standard of the work and attention to detail is truly outstanding.
LOCKHEED 10A ELECTRA and DOUGLAS DC-3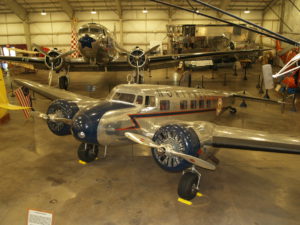 One of the last 10A-model Electras built, before Lockheed switched production to the 10E variant, this beautiful aircraft has been restored into the colours of Northwest Airlines, a former civil operator of the type. The exhibit itself was delivered to the US Navy in 1936 for use as personal transport for the Secretary of the Navy, Claude Swanson.
The Douglas DC-3 needs no introduction as an aircraft type. This exhibit started its working life with the US Army Air Force, despite having originally been ordered by American Airlines. It subsequently went on to Eastern Airlines, among other operators, and it is in those colours its is displayed at NEAM.
DE HAVILLAND CANADA DHC-4 CARIBOU (C-7A)
This C-7A saw active service in Vietnam with the US Army. It was eventually retired and flown to Bradley International airport in 1991, the last official flight of a C-7 in US military service.
A full list of the exhibits on display is available on the museum's website – click here.