Curio is one of Hilton's luxury brands. It was launched back in 2014. Hotels are supported by Hilton, but retain their own individual branding. One of the newest Curio hotels is The Westminster in London, formerly a Doubletree-branded hotel. It's about half a mile from the Palace of Westminster and a short walk from the River Thames.
The hotel has a single large suite on the top floor called call the Westminster Suite which is what I had booked for this stay.
The day I arrived at the hotel the room was not ready at normal check-in time for 3 pm. This was a concern to me as I had a meeting planned for 4 pm. I was made to wait in the reception area with no offer of a snack or drink until about 3:30 pm before the room was finally ready.
Corridors are dimly lit, presumably for a cool vibe but, in reality, they're just simply dark.
The room itself is not a true suite, consisting only of a single large room, two bathrooms and a make-up area with large walk-in wardrobe. There is a large L-shaped sofa, but it's not divided from the bed area. The room is spacious and has a huge window with an accordingly long curtain. I measured it at about 6 metres: possibly the world's longest hotel curtain!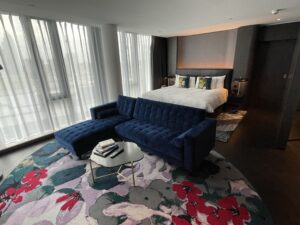 Room furnishings were of a high-quality and the sound proofing was very good, always welcomed at city centre hotels. There was a Nespresso coffee machine. Much appreciated over a standard kettle but, I wish hotels would ensure there were clear and simple instructions. It's not always intuitive, especially when you're tired.
My only real criticism of the room is the small cubbyhole that is supposed to be a work desk.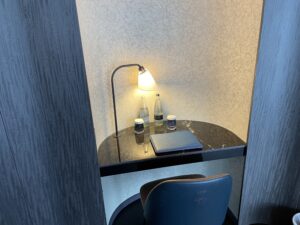 A proper full-size bath is a very welcome, and increasingly rare, amenity in a hotel room these days. There was a double sink and a separate shower cubicle. The open-plan layout would mean little privacy if a travelling companion wanted to simultaneously use the make-up area. There is a separate toilet and sink off the main bedroom.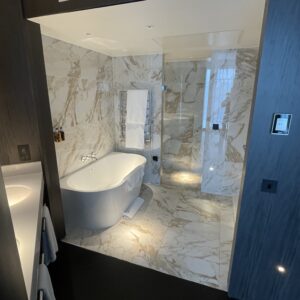 Breakfast wasn't included in my room rate, but the Bao Yum restaurant just off reception provided their take on a full English breakfast for a very reasonable price.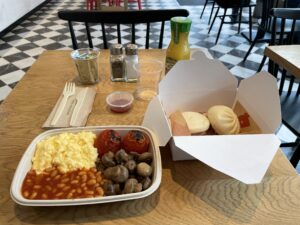 Overall, a great room although I have seen reports that some of the standard rooms are on the small side. Is it a cut above an 'ordinary' Hilton? Not yet, but it does seem to offer good rates on certain dates so is worth considering if a search comes back at a reasonable rate.