"The best business class in the world…" British Airways' first class service is often referred to thus by reviewers and forum posters. Is it behind the curve? Is it worth the price differential now that BA has, finally, updated its business class product with the new Club Suites?
I flew on BA's premium route from London Heathrow to New York JFK. Pre-pandemic this was the most lucrative city pairing measured by revenue anywhere in the world. The two metropolises are the only two in the world measured as "Alpha ++" by the Globalisation and World Cities Research Network. Despite this, when American Airlines withdraws its Flagship First service later in 2023, BA will be the only airline on the route offering a first class cabin.
That cabin itself has been reduced, with BA removing between six and nine seats – depending on aircraft type – to standardise on an eight-seat premium cabin on all except its Airbus A380s. Some of BA's long-haul fleet, the Boeing 787-8 and Airbus A350, don't even feature a first class cabin.
All that said, what do you get for your first class ticket?
Arguably, the first benefit is available from two weeks prior to your outbound flight. BA offers a service called YouFirst. This is a dedicated customer service team which can handle travel queries, including during times of disruption, or assist with things like misplaced baggage.
Talking of baggage, you get a very generous 3 x 32 kilograms baggage allowance per passenger plus two cabin bags up to 23 kilograms each (subject to size restrictions). That should take care of most people's requirements.
Travelling from Heathrow, there is a dedicated area called The First Wing located at the South end of Terminal 5. On my day of travel, at around 11:30am, there was no wait at all before being shown to a check-in desk. A tray of drinks was offered as the formalities were completed.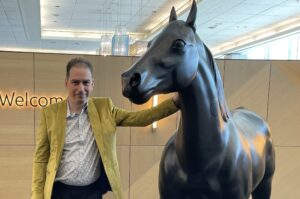 The First Wing has its own dedicated twin security lanes making the most frustrating part of the airport experience that bit quicker and easier. After security, a corridor leads directly into the Galleries First lounge. BA's lounge nomenclature at Heathrow can be a little confusing. The Galleries First lounge is not the first class lounge, though first class ticket holders are, of course, welcome to use it. Gold status members of BA's Executive Club are also eligible to use it.
The actual first class lounge is called the Concorde Room, after the iconic supersonic aircraft, and is just a few steps away from Galleries First. It's reserved for first class ticket holders and those with Gold Guest List status in the Executive Club (that takes 5000 Tier Points to earn – a lot of flying!)
On entering there is a bar area on the left and the restaurant style dining on the right. My favourite area though is the terrace. This is a welcome, airy open space overlooking the main part of the terminal. The décor is a bit eclectic, but tastes vary. There are comfy seated areas and lounge chairs. There are also a couple dining tables.
My companion and I wanted to save our appetites for the onboard service so opted for some simple smoked salmon sandwiches and a cappuccino. Service was prompt and polite as you'd expect.
Boarding time came and this is an area where BA's first class offering lags behind those of its European competitors, Air France and Lufthansa. Those airlines will transport you directly from the lounge to your aircraft in a chauffeur-driven car. With BA, you need to schlep to the gate in the normal way.
I introduced my travel companion to the walkway from the main terminal to the B Gates satellite. This alternative to the shuttle train is little known and always quiet. It's a fair walk but helps get some circulation going before a long-haul flight. From the main terminal, use the lifts to go down to floor -4, beyond the -2 for the train, and the walkway is well signposted from there.
BA's priority boarding process has come in for some stick but arriving early to the gate for this less-than-full flight meant our Group 1 status saw us through to the jetway as soon as we got there.
 At the aircraft door, a crew member accompanied us to the first class cabin and showed us our seats. The seats were the older style First seats. These have the advantages of a wider footrest and the ability to "buddy dine" (of which more in a moment). However, there is less storage space than the newer seats and the older seats are showing signs of wear-and-tear in places.
A pre-departure beverage was served. Choices were of champagne, orange juice or water or, the classic combination of a Bucks Fizz, which I opted for. No snacks were served with the drink.
After take-off, the crew took drinks orders and I opted for a Bloody Mary. This was served with a selection of canapes including…
BA offers an a la carte dining service in First enabling you to choose when you eat. As it was already past 3pm London time and I hadn't had any lunch I opted to eat straight away. There was no amuse bouche, but I believe this has been replaced by the enhanced canape service provided with drinks.
The other thing to mention here is that an advantage of the old style seat is it allows you to "buddy dine" with someone. One of you sits on the footrest, which makes for an acceptable seat for a short duration, and the crew lay out the table for two.
The starter was a mozzarella burrata on a bed of figs with truffle honey. For the main course I had a roasted rack of lamb with potatoes and veg. Not an easy dish to get right at 35,000 feet but it was delicious. I opted for a cheese board dessert.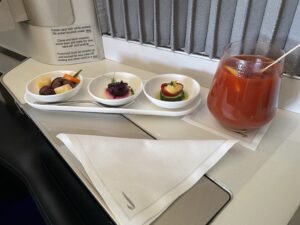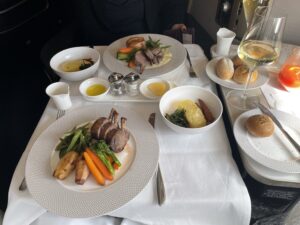 Then it was time to grab some sleep to help me stay awake later for the evening in New York. BA's first class seat converts in a fully lie-flat bed. Bedding including a mattress and topper and a duvet are provided along with a soft pillow. Pyjamas, from the luxury Temperley brand, are also provided.
After a good rest, we were a couple of hours out from New York, and it was time for the second service. Arrangements were as before. This time I opted for a prosciutto starter with grilled courgettes. The main course was an aubergine parmigiana and was followed by a lemon and lime crème fraiche.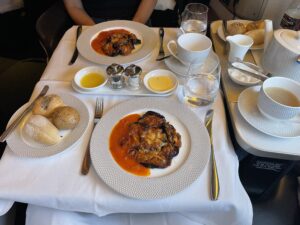 So, does British Airways first class stand up to scrutiny? One thing I haven't mentioned so far in this review is the crew. What BA lacks in hard product – and I will come to that in a moment – it generally makes up for in the quality of its cabin crew. It's true there has been a big turnover of staff following the Covid pandemic but from my recent experiences, BA's cabin crews still provide a very good service on board.
Where BA needs to improve its First product, if it is serious about retaining it, is in the ground experience. It can be difficult at outstations to go above and beyond but there is no excuse at BA's Heathrow Terminal 5 for a sub-par experience. The First Wing and Concorde Room are very good, though significant queues can still form at the former at certain times of day. When it comes to travelling to the aircraft, you're in the mix with everyone else. First world problem? Sure. But Air France and Lufthansa both provide limousine services direct to the aircraft for their first class customers, and Swiss does so if the aircraft is at a remote stand. With BA, you're on the shuttle train or bus with all and sundry. Boarding at the gate needs to improve too with boarding groups enforced with greater consistency. Even EasyJet does that better than BA sometimes.
Check back soon for more on this trip including a helicopter transfer to Manhattan from JFK airport and my stay at the InterContinental Barclay hotel.