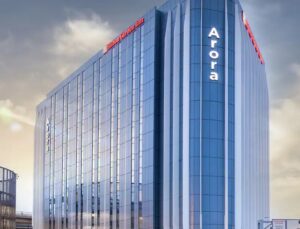 "Airport hotel" – hands up if you've booked somewhere describing itself as an airport hotel, only to find it's a long way from the airport itself. The last thing I want after a long flight is an interminable shuttle ride to a queue in a hotel reception.
Luckily, some airports have hotels which are linked directly to the terminal buildings. One such is the Hilton Garden Inn, Heathrow Terminals 2 and 3, which is directly adjacent to Terminal 2 and a short, covered walk from Terminal 3. This convenience can come at a cost, but more of that in a moment.
I booked this hotel as I had an early-ish departure the following morning from Heathrow, but also as I had a pre-departure Covid test booked at Terminal 2. The test was at 11am and I found myself arriving at the airport at 10am by taxi. It's not completely intuitive to find the way to the hotel as you have to walk across one of the levels of the multi-storey car park.
At reception, I enquired about storing my luggage prior to checking in later but the helpful staff said they had a room available now, which was great as I was able to drop my bags and relax before heading off for my Covid test.
I had booked a "runway view" room. As you will see from the accompanying pictures, there is indeed a view of the runway and much of the airport operation. Maybe not everybody's cup of tea but for any "avgeeks" it's a view you won't tire of quickly. I'll say at this point that if you're looking for a hotel specifically for viewing aircraft movements then the Heathrow Renaissance on the North side of the airport is a better bet with its specific packages for just that purpose.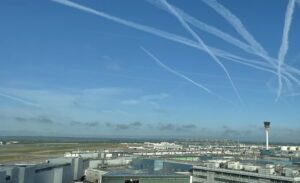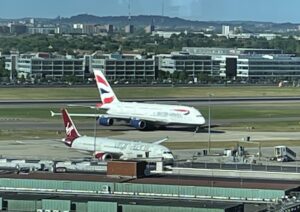 Amenity-wise the room contains all you'd expect at a Hilton Garden Inn including an in-room safe, tea and coffee making facilities and a refrigerator.
There is a rooftop bar with great views of the airport and surroundings but, as you'd expect, prices are sky-high. There is also a lack of landside restaurants at the terminal buildings. Options are these days limited to one of the major coffee shop chains. If you're staying here and want an evening meal it may be more cost effective to take the tube to Hounslow or a bus to Staines or Windsor and find a restaurant there.
One final point. There is another Hilton Garden Inn at Heathrow which is referred to as "Hilton Garden Inn London Heathrow Airport". This hotel is near Hatton Cross tube station and is cheaper than the one in the central area but lacks the convenience of being adjacent to the terminals. Make doubly sure you are booking the correct hotel as other reviews suggest it is a commonly made mistake.